Barcelona is a city full of places to go and enjoy. Museums, parks, Gaudi buildings, and other highlights. Barcelona offers much more than just the highlights, Barcelona offers food, culture, history and nice people.
If you are an architecture lover, when you hear Barcelona, you immediately think Antoni Gaudi. An architect whose work was part of Catalan modernism. Gaudi designed many more buildings in the city. Most of them were commissioned by Eusebi Güell; a rich textile magnate who had also become one of his closest friends. All these structures are each certainly worth a visit.
During your visit to this city, these are the top 5 Gaudi´s buildings in Barcelona you "must-see":
1-Sagrada Familia
The absolute highlight of Barcelona and Spain is the unfinished church of the Holy Family. It is the number 1 attraction in Barcelona. This masterpiece by Antoni Gaudí has to be part of your city break in Barcelona. The unfinished church will probably be completed in 2026. When construction of the Sagrada Familia is completed, the basilica will be the largest church building in the world. Although the Sagrada Família is not yet completed, Gaudi's church was consecrated already on 7 November 2010 by Pope Benedictus XVI. The holy church draws over three million visitors every year.
2-Park Güell
Park Güell is a famous park, a city park with an area of 15 hectares, with mosaic benches and the salamander in Barcelona. Intended as a luxury residential park, only a few houses were sold, including his own home that is now Casa Museu Gaudi. The Catalan genius expressed his own ideas about architecture inspired by nature. He wanted to recreate the typical British style of residential neighborhoods. The park is a must-see when visiting Barcelona. However, only a limited number of visitors are admitted every hour. 
3-Casa Milá/La Pedrera
A building with flats designed by Gaudí. La Pedrera means 'stone quarry' and is a highlight in terms of architecture. This apartment complex on the Passeig de Gràcia is on the UNESCO list. Its roof terrace is a particularly popular photo op. Characteristic is the organic and natural shapes that the architect used in his design. Visit this 'casa' of Antoni Gaudí to understand what the Catalan Modernism is.
4-Casa Batlló
It is a block of flats in the L'Eixample district of Barcelona designed by the Catalan architect. Nothing in the building is angular; it's all flowing lines. Everything is wavy and rounded, like the waves of the sea. The house is a unique piece of architecture in the style of Catalan modernism.
The roof full of mosaics represents the back of a dragon. The central theme is that of Saint George, the dragon slayer, who played an important role in the history of Barcelona.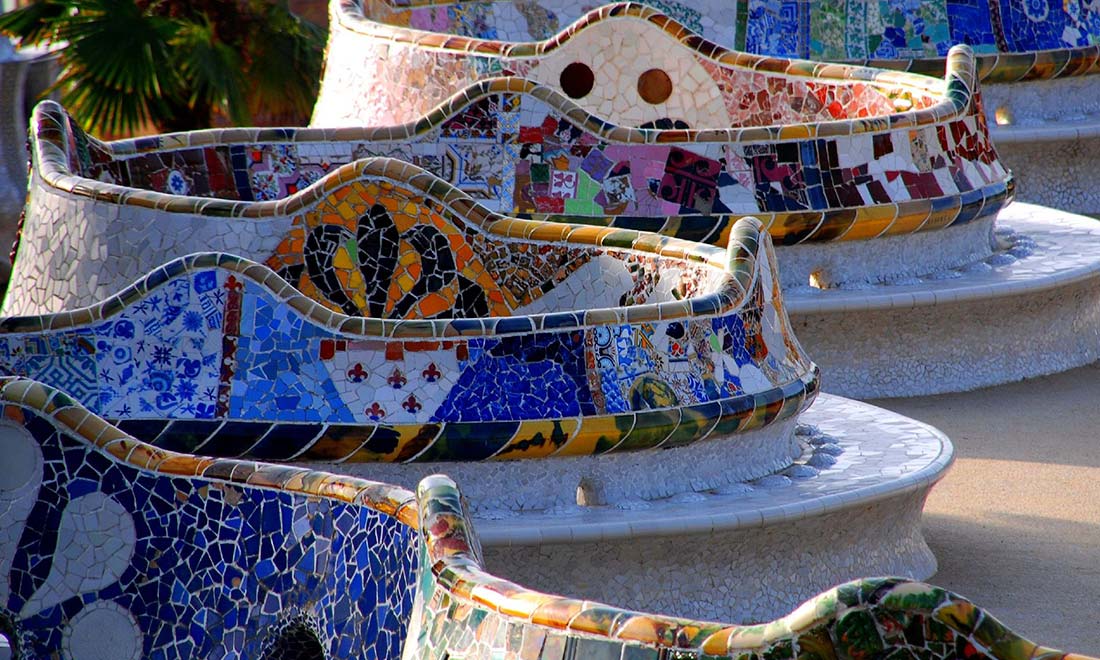 5-Crypt of Gaudi
Near Barcelona, you can visit the village of Colonia Güell. It's a former textile town that was run by industrialist Eusebi Güell and is where the yet-to-be-completed crypt of Antoni Gaudí is located.. Because of a lack of funding, the church was unfortunately never completed and construction stopped after Gaudi's crypt, which is certainly worth a visit. With its irregular shapes, the crypt can feel like a cave. No two columns are alike and the stained glass windows with the many mosaics complete the work. The typical atmosphere of the peaceful village has remained intact, making this town a rightful addition to the UNESCO World Heritage List.
We recommend you visit this building from inside. If you need our Barcelona private tour guides, experts in art and architecture will help you to decipher Gaudí's secrets and will help you to avoid long queues outside monuments.
Souces | Dave Meler
Images |  Barcelona Vip Tour